Category —
On Location
Katie Rose Pipkin. Quartz Crystal.
* * * *
Devin James Fry's
"Headwater Songs"

by A. J. Stephens
It was Sunday October 20th, at the venue Holy Mountain in Austin, Texas. Up until that point, I knew very little about Devin James Fry. He is kind — I thought of him as the benevolent beekeeper (he cultivates his interest in bee herding with East Austin Honey Company). He gives time to persons with whom he speaks.  He has a unique ability to convey and perceive energy, and does so with a sense of humor, reassuring levity, and reasoned perspective. When he told me about his residency at Holy Mountain — that he was a singer-songwriter musician —I realized that, if his actions in life were as sincere as they seemed to be to my friends and me, his music would follow suit.
Perhaps it was the desolate sort of energy many cities have on any given Sunday evening, especially during the change of seasons. Or, the apt setting for appreciating new music. Whatever the case, on October 20th I understood the type of impact music can have when it is absorbed without reference or preconception or anticipation, to truly alter one's sense of being, even if only for an hour. With no sense of where or how Fry's music would guide my evening's pondering, the journey and escape were touching, inspiring, and something I felt anyone in his or her corner of the world could and would appreciate. Something certainly deserving of attention.
Several of the pieces Fry introduced in October were released Monday, December 16th, on his nine-track solo album titled Headwater Songs, through Tucson-based label People In A Position To Know (Golden Boots, Little Wings, Wooden Wand).  Recorded in one take on Marantz 4-track cassettes after weeks of thorough preparation and rehearsing to get through the album without innumerable cuts (if any — and, in the end, a successful feat), the album at once embraces the musicians' vulnerability and exposes our own. As I am often drawn to form-and-function, I was convinced I had experienced an integrated work of musical artistry; an opinion furthered when Devin explained that Katie Rose Pipkin's smoky quartz artwork for the album cover alludes to the imperfections he recognizes may or may not reflect from Headwater's various stages of development.
A "psychedelic country and clawhammer guitar reflection" on the fires and flooding that tore through the Arkansas River Headwaters region of Colorado during the summer of 2013, the album's first track, "After The Royal Gorge Fire," is a tribute to Fry's family and childhood friend, Eric Andrew Smith — a firefighter assigned to defend the community — in his home town of Cañon City, Colorado. Other tracks I found particularly special are "New Moon" and "Blackflowers" — and taken as a whole, each track and the entire album's exploration of soul and sound does not disappoint.
The formal press commentary for the release adds that Headwater is: "…stripped-down, intimate country ballads reminiscent of Willie Nelson's Crazy: The Demo Sessions. Fry's formidable clawhammer work is everywhere, along with Salesman [the six-person band for which Fry provides vocals and guitar] drummer Clayton Lillard's masterful playing, moments of sparse harmony, and an expanse or two of trance-inducing reverb. 'Bloodstone (I'm Not Afraid To Die)' is a psychedelic lullabye equal parts comforting and defiant, title track "Headwaters (Song For Gatherer)" evokes a roadhouse along a burnt stretch of I-50 coming out of the Rocky Mountain foothills, and closer "Skate" seeks forgiveness in still-warm sandstone."
The album's release comes as unsurprising given Fry has collaborated as a member of the groups Salesman and Lord Buffalo for several years. However, the solo album brings attention to the 20 or so years of the dedication he has given to music since childhood. This is shared from the strings of his father's 1949 Gibson LG Parlor-size guitar through a Twin Reverb Amp. The drumming accompaniment provided comes from Clayton Lillard; Garrett Hellman dials-in crafted tones on three of the tracks; and Daniel Jesse Pruitt harmonizes on two. Though Fry's choice guitar may be known to have been used over time by vagabond travelers and children, the leadership it takes next to Fry's poignant lyrics and easy voice show that a permanent presence on the music landscape will soon be carved out by the type of maturity-of-sound Fry delivers on this album.
Fry has provided the opening track for readers as a complimentary invitation to his work: "After The Royal Gorge Fire" is available here for download.
The other tracks and entire album can be downloaded at http://devinjamesfry.bandcamp.com/.
December 24, 2013 Comments Off on James Devin Fry/Music Review
Credit: Newstimes Photo
Obama's upstate tour
inspires anti-fracking activists
President: 'Fossil fuels finite.
Climate change is real'
***********
by Tom Wilber
Binghamton (August 24, 2013) —  It was tough going for the 400 protesters preparing for Barack Obama's visit to Binghamton University Friday. They faced traffic from a rush of returning students and a maze of construction barriers, detours, and police blockades. Parking on campus, limited under ideal circumstances, got predictably worse when police closed campus roads at 10 a.m., two and a half hours prior to the arrival of the presidential motorcade.
After getting an early morning start that began with a walk of a mile or more from remote parking spots, with NO FRACKING WAY placards and provisions in hand, the protesters – skewed heavily toward the baby boom generation but also including students – gathered at a designated spot on the motorcade route in front of the university library. They rallied for hours while waiting for the president's arrival.  They chanted "Yes We Can," echoing both the president's campaign slogan, and their intention to stop fracking. The cheers reverberated across quads and walkways at the center of campus that were mostly empty due to security measures, and the animation of the protesters offered stark contrast to the poised vigilance of police and secret service personnel stationed at every turn.
I passed the protesters as I negotiated the series of barriers and yellow tape, hurrying to get to the press check-in at the university union before the cut-off. After getting cleared, I was directed through the press entrance to the venue, where I set up my laptop at a bank of workstations that accommodated about 40 other reporters on the periphery of the action. My view was partially obscured by the risers in front of me, which held cameras for photographers and broadcast outlets. The press pool, easily numbering more than 100, flanked one side of the small hall. The president's podium was in the middle. Two other sets of risers – opposite and at a right angle to the risers for the press pool – held students and faculty picked from a lottery. In the remaining space a row of folded chairs directly in front of the president was reserved for local officials and dignitaries.
A few hours later, with everybody in their assigned places, a helicopter churned overhead and the presidential motorcade turned onto campus. As the line of motorcycles with flashing lights, SUVs and a large black bus with the presidential seal made their way up the road, the activists by the library seized their brief moment and shouted and waved banners. Some glimpsed the president standing near the front of the bus, but it was difficult to discern a reaction behind the tinted class. It was over in an instant, and several minutes later, the president made his way into the Union from an unseen entrance.
Obama opened the meeting with a short talk about education as the essence of the American Dream. Predictably, he offered no passing mention of the subject that stirred the protest that greeted his arrival, or other protests that had been staged across various points of his two-day tour through upstate New York and Pennsylvania. The questions and answers of the two-hour town hall meeting were themed around equality and access and affordability of the American higher education system. (With due respect to the significance of the educational issues that were the focus of the president's tour, I will not go into these much here, and leave that worthwhile work to other bloggers and educational beat writers.)
In keeping with the heart of the theme of his second term – working for the middle class – Obama projected an approachable and informal manner throughout his upstate tour, which included spontaneous stops to greet surprised onlookers at soccer-fields, diners, and cafes. And he kept  up that manner at Binghamton University.  "I'm interested in hearing your stories, getting your questions," he said. "And this will be a pretty informal affair– well, as informal as it gets when the President comes – (to laughter) – and there are a bunch of cameras everywhere." After calling on a student in an Obama T-shirt, he advised "here's a general rule in the presidential town hall:  If you want to get called on, wear the president's face on your shirt." (The student's question: How does your administration plan to address the major budget cuts that are happening with Head Start schools around the U.S.? Obama's answer: As the deficit continues to fall with the economic recovery, he sees more resources for federal funding. But it remains a political fight, and he will fight for worthwhile programs like Head Start.)
Near the end of the meeting, Obama called on a man with something other than education on his mind. His name was Adam Flint, coordinator of a Cooperative Extension program called Broome Energy Leadership Program. Flint began with a bit of context: Fossil fuels might last another generation. And then what? He was worried about his children's futures, and he was guessing that the president, with adolescent daughters of his own, shared his concern. "Is there any good news for green economy of future?" Flint asked.
Behind that simple question lies a convoluted political dilemma, and the president's answer reflected this, if little else. On the one hand, Obama said, with record production of domestic fossil fuel "we've actually achieved, or are on the verge of achieving about as close as you can get to energy independence as America is going to see." He notably chose to avoid the word "fracking" – the controversial method of splitting rock with pressurized chemical solutions. This technology, exempt from federal regulation that govern chemicals that go into the ground and waste that comes out of the ground, is largely responsible for prolonging and enabling our fossil fuel-based energy system.
Without mentioning these exemptions, Obama pushed on to the crux of the question: The future. "The bottom line is those (fossil fuels) are still finite resources.  Climate change is real.  The planet is getting warmer.  And you've got several billion Chinese, Indians, Africans and others who also want cars, refrigerators, electricity. And as they go through their development cycle, the planet cannot sustain the same kinds of energy use as we have right now.  So we're going to have to make a shift."
The shift will require new technology, he said. But immediate improvements can come through conservation measures now within reach that could reduce the country's energy consumption by 20 percent to 30 percent.  Retrofitting buildings for energy efficiency, as well as building new energy-efficient buildings and communities, can create jobs as well as decrease energy dependence. But even a relatively simple approach like this – what Obama called the "low hanging fruit" of the energy question – involves a problem. The problem is rooted deeply in prevailing influence of Big Energy on Capitol Hill, and ideological factors that "tend not to be particularly sympathetic to alternative energy strategies," Obama said.
"In some cases, we've actually been criticized that it's a socialist plot that's restricting your freedom for us to encourage energy-efficient light bulbs, for example.  I never understood that.  But you hear those arguments.  I mean, you can go on the Web, and people will be decrying how simple stuff that we're doing, like trying to set up regulations to make appliances more energy-efficient – which saves consumers money and is good for our environment – is somehow restricting America's liberty and violates the Constitution.
"A lot of our job is to educate the public as to why this can be good for them – in a very narrow self-interested way.  This is not pie in the sky. This is not tree-hugging, sprout-eating university professors. This is a practical, hardheaded, smart, business-savvy approach to how we deal with energy."
Obama is dealing with energy in a somewhat different way than his fellow Democratic leader, New York Governor Andrew Cuomo. Obama has embraced an "all of the above" approach to encourage sources of domestic energy production, including fossil fuels and renewables, and in previous speeches he has identified fracking for natural gas and oil as "a priority." Obama's words have been supported by his actions: His EPA has dropped two critical investigations into groundwater pollution near drilling sites in Pavillion, Wyoming and Dimock, Pennsylvania. Both investigations found chemicals associated with drilling in residential water wells, and this finding, if pursued, could have provided ammunition for policy reform and a threat to the industry's exemptions to the Clean Drinking Water Act. Also, Obama's Department of Energy has begun permitting facilities to export gas, a move that will encourage more exploration and production at home.
Cuomo, on the other hand, leads a state that sits over a lucrative part of the Marcellus and Utica shales – world class gas reserves. Yet Cuomo has not allowed shale gas development. A defacto-moratorium on permitting is now entering its sixth year, while the Cuomo administration continues to evaluate health and environmental impacts of fracking and the broader consequences of shale gas development.
In the meantime, political action groups both for and against fracking have used the delay to pressure Cuomo. Fracking supporters also appeared with signs  – Drill a Well, bring a soldier home – within view of the presidential motorcade yesterday. That protest, at Otsiningo Park boarding Route 81 several miles north of Binghamton, was much smaller and less visible than the one on campus, and the difference between the two protests illustrates the way things are going in New York state.
Walter Hang, an anti-fracking activist and an organizer of the Binghamton University protest, said the logistically difficult demonstration on campus was a reflection of the organizational ability and commitment of the anti-fracking push from the grass roots that has stalled the development of shale gas at the Pennsylvania border.
"When Obama's office announced he would be taking a bus tour through upstate, we knew this was a chance to get our message out nationally," said Hang, a career activist who worked as a community organizer for New York Public Interest Research Group for decades. Hang emphasizes the importance of tactics and execution in political action campaigns. "We're out-organizing the industry in New York state," he said.
In addition to well-organized grass roots campaigns in upstate New York, the movement is also getting help from Cuomo's broader progressive base, which includes a host of institutions and influence from the Hudson Valley and New York City areas strongly opposed to fracking.
Cuomo, seen by many as a rising star in the Democratic party and a possible successor to Obama, neatly sidestepped this chapter of the shale gas controversy. After greeting the president at the Buffalo airport Thursday, he took his daughters back to college while the president made his rounds upstate.
About the author:
Tom Wilber has been in the newspaper business for more than 20 years and has written for the Central New York Business Journal and the Watertown Daily Times. For 17 years, he worked for the Binghamton Press & Sun-Bulletin, covering business, health, and environment beats. From 1992 through 2005, he taught various journalism courses as an adjunct at Broome Community College and Binghamton University. He lives with his wife, Julianne, and their two children, Alex and Patricia, in the Town of Union, New York.
His book, Under the Surface: Fracking, Fortunes, and the Fate of the Marcellus Shale
, is available on Amazon.
This article was published simultaneously on Wilber's blog, http://tomwilber.blogspot.com/.
August 24, 2013 Comments Off on Tom Wilber Reports
©2013 Larry Hamill
Visual Thresholds
Bryce software opens new ways of thinking about 3D space. To be able to add material qualities to shapes such as color, texture and reflectivity further adds to the creative possibilities. Just as in painting, one creates rough 3D sketches before committing them to days of rendering. This art form requires a seriously fast Mac.
-Larry Hamill
………………………………………………………………………………………………………………..
Larry Hamill / Visual Thresholds
………………………………………………………………………………………………………………..
March 2, 2013 Comments Off on Larry Hamill/Photography
"Heart" Color etching. 5″x7″
Rebecca McGinnis: 
Printmaker with Heart in Texas
* * * * *
by A. J. Stephens
After visiting Rebecca McGinnis in her studio space at Slugfest Printmaking Workshop during November's EAST (East Austin Studio Tour) festival, we arranged to meet and talk about her artwork. I arrived late for our scheduled confab at the local coffee shop where we originally became acquainted, and soon discovered more about her enigmatic precision in communicating intangible emotion and concept. She was inspired to turn to printmaking in 2009 during her study of design and painting at Florida State, and was further inspired by the early efforts of studios like Drive By Press to reinvigorate a young audience's respect for the art form. She has since cultivated her own relationship with expression through this medium.
Rebecca's current body of work explores the mind-body connection, a theme that resonates with her interest "…in the deep complexity of human emotion…," and particular curiosity "…about the reactions happening below the surface, subverted to the subconscious." In her work, she explores "…the connections between the physical and the abstract world of emotions and create[s] metaphors referencing nature and science to describe our inner workings." For this vision, what more perfect medium exists than one that, from its own intrinsic qualities, mirrors the artistry it enables her to channel: Printmaking.
McGinnis was generous in discussion, and encouraged the possibility that I would grasp the alchemy of it all —not something I could ultimately feign, despite my efforts. She remained committed, and patiently shared how an asphaltum wax, brushed on the copper, at once inputs and shields her vision for each copper plate from the ferric chloride that will eventually carve out the relief where the wax is absent. There is a science to this medium, but one that printmakers internalize as the natural tools available for creation.
From her background in painting, a medium with which I am more familiar, Rebecca added that there could be an analogous idea that printmaking is like "painting backwards"— the artist must first create negative space on the plate, however. Somehow, this made more sense to me. She went on to explain that during the process of etching the plate, she has not yet thought about the eventual color applications she will use in the future, that the depth of each section will impact the weight of ink and richness of color & shade transposed onto the paper, that only through unpredictable, possibly innumerable cycles of negotiation between etching-refining-burnishing-and-etching-again, can the relief take form.
 "Cross Current" Color etching. 9″x12″
Finding her vision within the copper plate is only a step in the process of creation. Once the plate is ready to bring life into the world, the trials and trust begin. Most printmakers follow a tradition of using black-ink, but Rebecca favors the less conventional use or incorporation of color—which provides a vibrant quality familiar to her from her painting background. Sometimes, it is like pulling a rabbit out of a hat because, she shared, one never knows what comes out from the press: how did the ink take (or, not take) to the paper; what colors adhered or mixed as envisioned; were the contrasts achieved; was an unexpected result more than she could have hoped for? If not, back to the wells and wax. Or, maybe it's just a matter of trying a different combination of color; a new solid color; or letting the plate rest. Certain patience and deliberation are required: often, the copper has a mind of its own, and a lifespan.
There cannot be too many trials. Each print must not, in fact, be considered a trial at all. Rather, each print is one of few given to the world. Eventually, the plate will run out. This "mortality," Rebecca shares, makes the process bittersweet— eventually she must put it down after it has run its course, and each plate is different. Rebecca's work leaves behind (or, sets free) impressions that can be shared without words and taken by each visitor into her world as they find them.
When I left Slugfest I did so with a small new piece for my collection, kept safe between the hard covers of my school texts: Heart. I had seen it on the flyer announcing the festival, but never would have imagined how the actual print might look or feel in person. Anticipating that each print would be unique and would resonate with different people for different reasons, I had difficulty figuring out why I was so moved by the particular version I adopted: its subtle harmony of color and a shadowy set of contrasts that strike a perfect chord. It was confusing.
At our follow-up meeting I heard of Rebecca's hope "…to alert, orient, or empathize with someone else in their own uncertain journey, and to celebrate the exhausting and everlasting shared challenge of finding one's own way."
Maybe I hadn't been able reconcile my reaction to the small print on my shelf because I am still learning about the piece itself — that it is not just a print, but a conversation as well. Upon speaking with Rebecca, I knew I was lucky to have met an artist who can still—at that stage of expected enthusiasm and incredible freedom—so delicately move between alchemy and art; and who recognizes the emotion and intellect of a conversation to which she welcomes each viewer, appreciator, or supporter.
For more about Rebecca McGinnis, see www.rebeccamcginnis.com.
She can be reached at: rmcginnis99@gmail.com
January 13, 2013 Comments Off on Austin Art: Rebecca McGinnis
 The Corporation's New Clothes
LA resolution puts people first
By Eleanor Goldfield
Unlike most days when my lungs are filled with smog, and my east coast tongue twitches with curt, smart ass one-liners to spew at unsuspecting "dudes" and "dudettes," today I am very proud to live in LA. December 6th 2011: Los Angeles becomes the first major US city to pass a resolution stripping corporations of their constitutional personhood rights. And, as a side note, it's my 25th birthday. Not too shabby of a birthday gift. The vote was unanimous: 11-0. The line of supporters ran out the door and coiled around the block as if Splash Mountain had temporarily relocated to the statuesque old Hollywood glamour of LA City Hall.
Move to Amend, the organization that put forth the resolution, has gained significant ground in the past few months. The LA chapter co-chair, Mary-Beth Fielder (who was recently interviewed on KPFK as well as MSNBC discussing the resolution vote, as well as the foundations and goals of the group) spoke emotionally after the vote.
"This is an incredibly historic day. Los Angeles is the first major city in the United States to call for a Constitutional Amendment to clearly establish that only human beings are entitled to constitutional rights and that money is not the same as free speech…"
"This is putting us back in control," she said on KPFK a few days earlier, "giving us the power to regulate corporations in the way we see fit."
The idea of us, we, the people, being back in control is at the core of Move to Amend's agenda. It is also, interestingly enough, what is behind the Occupy movement. That correlation is a major reason why Move to Amends numbers have grown from the teens to the hundreds recently. I say interestingly enough because one would think that with all the national and international attention this movement has garnered, they would be the ones using that press to infiltrate the legislative branch of government, pushing pens into politicians' hands and demanding the rights and freedoms of people be held above the bottom line, above any query regarding pizza as a vegetable.
As you may have noticed, if you've followed the movement, there has been much talk but little change. The powers that be haven't nervously acquiesced to anything. The power of the people has not risen in any form due to the tents or tenets of the Occupy camps. The good intentions of Occupiers have been tarnished by lack of organization and vague goals, something that has either pushed people away or brought people to groups such as Move to Amend. In a way Occupy has given the movements such as Move to Amend the fanfare and show they needed to grow – the same way one gains the attention of a 2-year-old with a flashy toy.
Now, the soggy, torn up grass of my local Occupy LA camp is not what one would term flashy. In its 50-some odd days, the camp can easily be compared to any tragic Hollywood starlet − starting off shiny and new, full of hope and promise. But without guidance, fading into a fleeting image adorning nostalgic coffee houses, whispering among the who's whos until the name fades, the memory a soft impression on a bygone era.
The first march drew thousands, each subsequent march clawing at the 1,000 mark and dwindling from there. And those are the marches that came to fruition. Some nationally planned Occupy marches just didn't happen due to lack of organization and planning. Now, with the Occupy movement at a crossroads of fight or flight, these outside movements are picking up steam and using that first flash of recognition to catapult into the political spotlight.
* * * 
On your typical November LA morning, the sun shining, a soft breeze and a comfortable temperature of 65/70, I made my third visit to the north side of the Occupy LA camp in less than a half hour. As I irritatingly turned the corner around a tent with a Ron Paul sign out front, I noticed a middle-aged man give a slight chuckle as he lit his cigarette.
"Looking for something?" he asked, shoving his hand back into his pocket and taking a deep puff.
"Well yeah. I'm trying to organize for my band to play and I keep getting bounced around like a damn pin ball. It's ironically similar to a corporate call center."
That produced a deep laugh. At the time, I didn't find it funny at all. Trying to push back to solemnity I asked if he knew who I could talk to. He shrugged, sighed and scratched his unkempt beard. "I live here and still don't know who's in charge. Because no one is. Bitching about something isn't the same as doing something about it. Right now we're just bitching − in tents. I support coz I believe in the cause. But I don't see it lasting much longer if we can't get our act together."
As I looked around, surveying a scene of mixed messages and little kinetic energy to speak of, I knew he was right. Not quite knowing how to respond, I returned his shrug and tried one last time to find the head of the arts committee who according to two people, but not the third, was also the head of the first aid tent. I left not too long after, seemingly with less information than I had come over with.
I live in downtown LA, about a 5-minute walk from the Occupy site, and of the dozen or so times that I went over there, I was, more often than not, disappointed when I left. Like the man I spoke to, I believe in this movement. I have based an entire band on it. I write, sing and work for the goal of a government of the people, by the people and for the people. But Occupy LA was not this movement.
Occupy LA was a collection of varied opinions, bound together by nothing more than geography and the manufactured feeling of community that a camping trip brings. It may sound harsh, but let's be realistic. A leaderless movement has no future. The Occupy movement's official stance on this states that they are a "not a leaderless movement, but a movement of leaders," which to me sounds even worse. That's like throwing a bunch of alpha males into a tent and seeing what they come up with. Probably not a clear cut plan of action…
A movement with no clear goals or plans for reaching those goals loses steam before the coals get hot. Bringing people together is a commendable feat. But once they're there, what are you going to do with them? I first walked over, flag in hand, a journal full of ideas and plans, from events and shows to elections and business planning. At one of the GA's someone suggested that our main focus be composting. Another time someone stopped me and asked if I would give my life for a communist nation. And still another time someone asked me if I'd like to fuck for peace. No joke.
Now, I'm not trying to come down too hard on these people. I thoroughly believe that people should believe whatever the hell they want to. And I commend the people in the Occupy movement who have worked hard, who have tried for change. But with that cluster fuck blueprint, significant political change is impossible. Not all these beliefs can live under the same movement. There is a communist movement. I'm sure there's a fuck for peace movement somewhere, as well. But this movement, this idea based on our rights as US citizens, our freedoms and liberties, our future as a republic − this movement seeks to completely rework the corrupted and viciously powerful government corporation our nation has become. That's one helluva tall order. And that order requires, no, it demands, fierce organization, determination and planning.
* * *
That said, the Occupy movement is invaluable. It may be about as organized as a mosh pit, but it has valuable attributes that can not be overlooked. Whether it means to or not, it makes use of the entertainment medium. Having been an activist for quite some time, my eureka moment came when I thought of adding my passion of music to my passion of political and social involvement.
Move to Amend isn't trendy, it isn't chic. It is what political movements should be: straightforward, determined and organized. However, that doesn't always up your numbers. In all reality, people may say they give a damn, but until they're either forced to or seduced, they don't. Forced to is an awkward situation that either presents itself through a total national meltdown (not that I'm striking that from the list of possibilities) or literal force.
Neither one is something a peace loving movement should be aiming for. That leaves seduction. In the 1960s, it was literal seduction: Jim Morrison's leather pants, Woodstock, mind opening drugs that just made you wanna dance and make out. But, be careful lest the seduction become more fascinating than the goal itself. The more solemn Civil Rights movement passed ground breaking legislation. The peace movement limped away from an arrogant government's blood soaked retreat, embittered and hungover. But what if, looking at both strategies, we could intertwine the entertaining seduction of the peace movement with the solemn, heroic stand of the civil rights movement? If we let organizations like Move to Amend temper and focus the thrills and frills of the Occupy Movement…
Let's learn from the past and avoid its mistakes. In the aftermath of the civil rights and peace movements, a visionary, one president and one presidential hopeful had been murdered. A war had been lost, embarrassingly so. The burnt draft cards and noble stands did not make up for the lack of diplomacy or intelligence in the halls of the mighty. The legislation of the civil rights movement was a shining positive. It came towards the end of an era, the end of a time when our country concerned itself with the rights and freedoms of its people. The haze of the late '60s and early '70s left the country with a sour taste in its mouth, and a depressive disdain not only for government but for popular culture. As if it were a last hurrah, the civil rights legislation signaled a move away from political and social involvement and towards apathy and distrust. Consider the timely beginnings of Neo-conservatism, free market experimentation and freedom crusades (i.e. South America in the early-mid 1970s).
Now, I don't mean to write a lecture on the history of our fuck-ups. I'd merely like to point out that our history is the foundation for this movement. Our constitutional rights, our pitfalls and victories as citizens dictate the fight we are undertaking.
There is a quote by Penn Warren, used by my father in one of his books, and used by my mother in a painting that still hangs in the living room – I can recall passing it many times as a child, and being drawn to the rough edges of the papyrus paper she used, the strong profile of my father paralleled to that of a Syrian king. I can recall dissecting the quote, filtering it through my mind each year, further wrapping its meaning with my own history, patiently pondering as if it were a philosophical treasure map: "If you could not accept the past and its burden, there was no future, for without one there can not be the other, and if you could accept the past, you might hope for the future, for only out of the past can you make the future."
Out of our collective history, let us make a better future.
This isn't about one war, or one right. This is about all our wars, and all our rights. This is about everything that trickles down from the corporate peaks of a stolen government. So let us use all of our talents. Let's seduce those who see this fight either as a hippie commune party or a droll gathering of intellectuals.
I sing, I write, I speak. There are those who make people laugh (Jon Stewart, Stephen Colbert), those who lecture, those who teach. Every American has some way of contributing, because every American's future is tightly tied to the path of this movement. Every American has a different way of joining − a different way they can be seduced. I've had people come up to me after shows and say they are not political at all, but wow that's fucked up about the corporations. I've had people come with me to marches because they thought I was good looking. They might leave with blue balls but I'm happy to say every one has left with more knowledge and a spark to dig deeper.
Not everyone is cut out to be the one at the front, carrying signs and shouting slogans. I'm not. But understand that the march isn't what the movement is about. It's merely a means.
Let's make it clear. As with the civil rights movement, we need legislation. Marches and protests are great but they are not the be all, end all. Concerts and events are fantastic ways of spreading the word to people outside your circle, but they are not the point of the movement. We need to push for our rights, not as some ethereal trend but as a tangible, concrete demand. It needs to be written, and it needs to be remembered.
We too easily get caught up in the Woodstock-esque charm of a campground, and veer off the path to change. Stay with it. Don't take any victory, any freedom or any right for granted. If we don't care enough to take back our country, why should it be given to us? "A republic madam, if you can keep it," was Ben Franklin's famous response to a woman asking what form of government the Constitutional Convention had decided upon.
Right now, we're not keeping it. We've lost it. We're fighting to get it back.
* * *
The Occupy movement didn't fight. They weren't that movement. Now maybe they will be. The tents may have left to make way for the real occupation; the occupation that will not sit down, not disappear from the political stages of this nation until we, the people, have gained our rightful place as the deciding force behind the government of the United States.
Together with organizations such as Move to Amend, we will take our country back, our rights; with organization and the clear cut goal of amending the constitution to firmly place we, the people, as the sole beneficiaries of constitutional personhood rights. At the post-vote press conference on December 6th, Council President Eric Garcetti, who first introduced this amendment to LA City Council said, "Every struggle to amend the constitution began as just a group of regular Americans who wanted to end slavery, who thought women should vote, who believed that if you're old enough to be drafted, you should be old enough to vote. These are how American amendments move forward from the grassroots when Americans say enough is enough. We're very proud to come together and send a message but more than that, this becomes the official position of the City of Los Angeles, we will officially lobby for this. I also chair a group which oversees all the Democratic mayors and council members in the country and we're going to share this with all our 3,000 members and we hope to see this start here in the west and sweep the nation until one day we do have a constitutional amendment which will return the power to the people."
Yes. That is the hope. That is the inspiration. That is our duty as Americans. Occupy your place in this country. Occupy the story of your citizenship. This country was great because of the people who made it so. It falls because we allow it to. It can only be lifted by the people, we, the people.
Whatever your contribution will be, whatever seduces you to this movement, this is our time, this is our fight. This is now. This is us. We, the people. In liberty and justice we trust. Think. React. Do Something.
About the author:
Eleanor Goldfield is a singer, songwriter and political activist. She is the vocalist for Rooftop Revolutionaries, comprised of Brian Marshak/lead guitar; Karim Elghobasi/bass; Lamar Little/drums. An interview with Goldfield by Ragazine Politics Editor Jim Palombo appeared in the September-October issue of Ragazine (Vol. 7, No. 5). See/hear more at:
www.rooftoprevolutionaries.com, and http://rooftoprevolutionaries.blogspot.com/ .
Occupy Resources:
December 25, 2011 Comments Off on Move to Amend/On Location, LA
September 15, 2011
Don Ruben: A Class Act
Legendary lawyer excelled
in courtroom, conversation and cooking
By Maggie Newkirk
One night in the early 1970s, a young Columbus lawyer named Bruce Campbell happened in on a get-together at a neighbors East Broad Street apartment across the park.
"I'll never forget it," Campbell said last week, of the first time he met Columbus legend, criminal defense attorney Don Ruben. "It was like taking a trip to New York. Here were these cool people, this really nice art on the walls, his shoes."
Ruben died this September at age 72. He was known for his flair for living and fashion, for his fine-tuned moral compass and love of the law, for his faith, his community involvement, his skill at both the lost art of conversation and making soup. He defended the unpopular, took on causes others wouldn't touch, with his iconoclastic nose for right and wrong, according to Ruben's eclectic and deep reservoir of admirers and friends.
"Donnie was one of the most righteous human beings I have ever met in my life, and that's not always what you expect from a lawyer," said Vanessa Kaukonen, who, along with her husband, guitarist Jorma Kaukonen, owns the Fur Peace Ranch near Athens. "He not only supported the underdog, but he really expected people to behave righteously. And when they didn't, he called them on it. That's just the way he lived his life. Whenever we were out in a group, I wanted to look around and say 'Look who I'm with.' I always felt so honored to be in his presence."
"Not that Don was a saint," she said. But Ruben brought people together in the venues that became his community. Merchants cried at the North Market. When they heard he was gone, said Annemarie Wong, co-operator of North Market Poultry & Game, "We were all just devastated."
The loss hit hard at the Short North Tavern, too, said John Allen, whose High Street bar gave the Short North its name: "This is the 30-year anniversary of the Short North Tavern and Don was there for 20 of them. A lot of people have been through this place and Don's not the first to pass away. But some people's passing leaves a bigger hole than others. Don left a big, big hole for me."
Courtroom and clothing
Ruben grew up on East Broad Street at The Royal York Apartments and later in Bexley where his parents built a home at Roosevelt and Bryden. He graduated from Columbus Academy and, in 1961, from Middlebury College in Vermont. He got his law degree at the University of Cincinnati, choosing the school, according to wife Lelia Cady, because he liked their basketball team. He worked for Ohio Attorney General William B. Saxbe, and as an assistant Franklin County prosecutor. It was all to prepare for his life as a criminal defense lawyer. His early success at trial law established his reputation for his entire career: "He was not afraid to try a case, and if he deemed a case worthy for trial, he would most likely kick your ass," Cady said in an email.
John Hurlbut became lifelong friends with Ruben during his trial lawyer heyday, when Hurlbut was a student. "He helped out a lot of people with legal problems."
"He was older than us, like a big brother. But he always kept a very liberal attitude. As famous as he got, he never let that take over his world. He had a pulse with the street. When I would be with him, he would run into people and he'd look at everybody with respect. He'd show the same respect to a judge as he'd show to a homeless guy at the North Market."
"He championed causes that no one else would champion," said Rabbi Gerry Zelermyer, who attended Middlebury with Ruben and served for a period as the rabbi at Congregation Agudas Achim where Ruben was a member for 72 years. At one point early in his law career, Zelermyer said, Ruben learned that street people were being prosecuted because they couldn't give evidence of their assets: "He worked for the abolition of that kind of statute. He saw things that other people overlooked."
Former Columbus Mayor Greg Lashutka knew Ruben for 40 years, and watched him work a courtroom and a jury. He was phenomenal, a top flight trial lawyer, he said.
"He got into criminal defense work when drugs were first coming on the scene," he said. "It was usually marijuana. The other stuff hadn't really come on the scene. Our society was trying to sort out how to approach it all, trying to figure out how to handle things. The whole subject got hot, but Don was always even tempered. He was helpful to Ohio having a more rational discussion on that." In a tumultuous time, Ruben also became a voice of reason in the debate over how to handle drug policy, said Lashutka, who said he and Ruben bonded over their shared center-right political bent.
"Don was a very moral man. He was probably the warmest, kindest human being I've ever met."
Ruben was also a stylish man. Lashutka said Ruben and a law partner would arrive at court in Columbus or Delaware wearing "these high platform heeled shoes, capes, hats. He was really just a Midwestern guy, but there he was. It was as much marketing as anything else. He had a great sense of that. He played it to the hilt and it worked out very, very well for him."
The dress and shoes calmed down, but Ruben never lost his sartorial panache. Elizabeth Lessner, founder of the Columbus Food League, whose Columbus restaurants include Betty's Fine Food & Spirits, Dirty Franks Hot Dog Palace, The Jury Room, the Surly Girl Saloon and Tip Top Kitchen and Cocktails, said she first became fascinated with Ruben because of his t-shirts. She remembers a vintage Metallica concert tee, a Zippy the Pinhead tee and a host of tees with lawyer jokes: One said "Talk is cheap, until you hire a lawyer."
Cady remembers being pulled aside by perfect strangers at the North Market, who wanted to know who Ruben was. They'd seen him around for years, they said, and, not knowing his name, referred to him as "Stylin' Old Guy."
"They'd come home and say to each other 'I saw Stylin' Old Guy at the market, or I saw Stylin' Old Guy downtown,'" Cady said. Ruben laughed out loud when he heard it: "Don loved that."
Lawyer life abandoned
In the late 1980s, Ruben cut his law practice down to nearly nothing. Some called it an early retirement. Ruben did not.
He characterized the move as a boycott against developments – like mandatory sentencing guidelines and prosecutors' growing use of snitches – he said were undermining the integrity of the criminal justice system.
He took cases that interested him, and served on the state bar's ethics committee. He and Campbell, the lawyer so awed by Ruben's apartment decades earlier, traveled to a federal prison in West Virginia to interview prisoners whose families said they had been misled by a lawyer. The lawyer was temporarily suspended because of their work.
Ruben's stature in the legal community didn't dim, according to Allen, who would watch other lawyers seek him out at the Short North Tavern over the years. "Their respect for him, I would always find it fascinating. He'd been retired a long time and a lot of time people don't know who you are anymore when that's the case. That wasn't true with him. It was an indication of his stature."
The good life
After leaving the full-time practice of trial law, Ruben became an investor, a cook, an arts supporter and a collector of interesting music, t-shirts and people. According to Hurlbut, he stayed interested in new music trends well beyond the age when most people would be locked into genres from their youth.
He invested with an eye on ethics, which often put him ahead of the game, Hurlbut said. Years before Starbucks had a shop on every corner, Ruben had the coffee shipped to his Summit Chase apartment from the only place you could then get it – Seattle. Ruben had invested in Starbucks because he liked the way the company treated employees. When local company Stauf's opened their first small coffee roaster shop in his neighborhood Ruben supported them, making friends of the founders. The company's president brought coffee beans and dark chocolates to Ruben's home after he got sick.
Ruben's cousin, Rodney Wasserstrom, CEO of The Wasserstrom Company, used to meet up with him at the North Market to discuss politics and markets. He was "very astute in understanding Wall Street and the public markets," Wasserstrom said.
He studied politicians with the same rigor with which he studied companies, Wasserstrom added. Libertarian by nature, Ruben backed candidates based as much on his opinion of their character as their party.
Ruben continued to champion the people and causes he believed in. He worked for years with House of Hope for Alcoholics, a residential treatment center serving the uninsured and vulnerable. He advocated an end to marijuana prohibition and for the swift legalization of medical uses for marijuana.
He also championed the local art scene. Columbus artists knew Ruben as a man who gave far more than lip service to their work, said Roger Williams, the Columbus sculptor and deconstructionist painter. Ruben didn't just buy local work, but he showed up at openings and shows – almost singlehandedly making them cool in the process.
"He'd buy a piece of art, then he'd come to your show," he said. "And when you were down to your last dime, because you spent it all on art supplies, he'd invite you up his apartment for a bowl of soup."
Photographer and friend Larry Hamill also enjoyed Ruben's support: "When I had an opening for my art work, he was always there. He was a true mensch.
Food and friendship
Ruben was a regular at a number of venues, particularly around downtown. The Short North Tavern was among them. The bar's diverse patrons, some there because of their politics, some for sports, fitted Ruben perfectly, owner Allen said. "You have to enjoy people with different points of view than your own here, and give and take to survive" he said. "At that, Don was damned good. He could put together a hell of an argument to support whatever he was supporting. He did like to share his knowledge and wisdom."
Ruben also became a consummate cook.
He was well known among the city's food people, said Lessner: "All the restaurateurs knew him and loved him and respected him," she said.
The most popular side dish on the menu at Frank's came from Ruben, she said. "We were just sitting around the table at dinner and he thought it up," she said. "He said, 'Everybody does fried onion rings. You should do leeks.'"
Among friends, Ruben was famous for his soups. He kept his handwritten recipes in special binders that no one was allowed to touch.
He brought samples back to the North Market sometimes, so that the vendors would know that they were selling a gourmet ingredient.
Ruben stuck to the basics: "He made a summer sauce with cherry tomatoes in quarters, and olive oil, with fresh basil and garlic," said Hurlbut. "You'd see how something so simple can be so wonderful. His whole life was like that. I've been blessed with a lot of friends in my life. There was no one like Don."
Ruben shopped almost daily at the North Market and cooked only with what was in season. He was "doing the whole farm to table thing 15 years before anyone else had ever heard of it," Lessner said.
At the market, Ruben both shopped and engaged with the vendors, fellow shoppers and the farmers outside.
She said Ruben and her shop partner would shout to each other across the stoves, "talking the latest political outrage to each other. It was very funny. He was so engaging, he was like the glue that held us all together.""The thing about Don that was really cool – and that's hard to come by – was that he had the art of conversation," said Wong, the poultry vendor. "People don't know how to do that anymore. You see all these people in here and they're on their laptops or their phones."
Ruben learned he had a rare and aggressive form of head and neck cancer on New Year's Eve. Over the next eight and a half months, he would have surgery, chemotherapy and radiation and would lose his tastebuds and the ability to swallow. Wong made a special gelatinous broth for him out of chicken feet, to help him heal.
He handled his illness with grace and optimism, said Cady, his wife. He was working out and appearing to get better when he went back to the hospital short of breath in September.
The cancer had spread but Ruben never learned that. He died on September 15.
…………………………………………………………………………………………………………………….
Don Ruben's Ohio Summer Tomato Sauce
 

1 garlic clove

chopped fresh basil, torn

Ohio cherry or plum tomatoes

olive oil
Cook pasta, drain, set aside. In a heavy skillet, heat olive oil with one pat unsalted butter. Add chopped garlic and saute on low until golden. Increase heat, add to skillet halved Ohio cherry or quartered plum tomatoes, cook briefly until slightly wilted. Salt and pepper to taste. Add pasta to skillet, toss with sauce. To serve, garnish with basil and Parmesan reggiano.
…………………………………………………………………………………………………………………….
Editor's Note:
This article originally appeared in the Short North Gazette, Columbus, Ohio, November 2011 Issue. It is reprinted with permission of the author.
 http://www.shortnorth.com
December 25, 2011 Comments Off on Don Ruben/In Memoriam
What a nite, staring at a big New Mexico sky with more stars than can be counted; a single tear in one eye (that never drops), watching shooting stars go by. Gordon Lightfoot reminding me of lost loves and Great Lake dangers. Care free highways and new days. My favorite cigar and best pal Ramone, high up on the mesa. What a nite.
November 1, 2010 1 Comment
Candice Watkins
Building the Cultural Bridge
ragazine.cc: As an organizer of the annual Comfest Street Fair, among numerous other items listed on your resume in the About Candice Watkins graf in your blog, you've done about everything and anything a person can to promote the arts in and around Columbus. What motivates you to participate?
CW: There is an inner need to work toward a better world, a place where people of all kinds are equal and talent is nurtured so everyone can be the best they can be. The arts and humanities have been venues for me as they translate well to community work and bridge cultural and economic gaps allowing for public opportunity to participate in sometimes heretofore unaccessible activities.
rag: You're a visual artist engaged in neon and other light studies, but you're also a musician and photographer. What's your 'favorite medium'?  The one that puts you in the driver's seat of expression?
CW: I enjoy being flexible, working in light is like working in photography so if I had to choose it would be both neon and photography. Both are the result of manipulation of light. Thought I also really enjoy event production, in that it allows me to share a vision with thousands of people at a time.
rag: You take a lot of photographs of musicians …
CW: I am a music historian or what is sometimes called an ethnomusicologist, as well as a collector of historical photos and documentation for mid-western artists. I continue to document performances myself and have a collection ranging from the 1960s through 2010.
rag: Is this a special subject for you, or one of many?
CW: I also shoot a lot of beaches and flowers – favorites for me. Check out my myspace.com/jazzneonfestivals4u and facebook albums.
rag: If you could sit down for a couple of mojitos with any musician at all, who would it be, and why?
CW: I  would like to drink with Rahsaan Roland Kirk and Art Tatum – both favorites of mine that I did not get to meet. Of course, I did get to hang with many folks who are gone but whom I loved, like Royal "Rusty" Bryant, Hank Marr, Jimmie McGriff and Frank Foster, and still do hang with Gene Walker, Sean Carney, Bobby Floyd, Derek Dicenzo and Shaunt Booker, among many, many more I am blessed to know.
……………………….
A recording done at Jazz & Eggs Jam Sessions, The River Club, Columbus, Ohio, in 1998, titled "Jam For Jitney" in honor of Candice Watkins' father, Jitney, who had just passed away. The piece was a small part of the Jam's ongoing music that day. Based in Horace Silver's "Song for Our Fathers", it sailed on for more than half an hour.
……………………….
ABOVE: Derek DiCenzo, top, at the Rahsaan Roland Kirk Scholarship Fundraiser in 2008, in Columbus. Sean Carney, bottom left, of the Sean Carney Band, winner of the International Blues Alliance award in 2008. Taken at Blues for a Cure. Danielle Schnebelen, lower right, of Trampled Under Foot, at the 2009 Blues for a Cure concert in Columbus.
……………………….
Comfest Street Fair:
Friday, Saturday, and Sunday, June 25, 26, & 27, 2010
……………………….
Watkins, with her "time travel buddies", is the author of a book from Arcadia Press titled "Columbus: The Musical Crossroads".  The premise is that travel in the early to mid-20th Century was overland; the national road and major train lines went thru Columbus, and the music did too. "It was a major player,  just like those cities that have capitalized on it more." The book is available online at Amazon, Barnes & Noble, Target and other booksellers.
Candice Watkins can be reach at comfeststfair2@cs.com.
June 20, 2010 Comments Off on Candice Watkins
Fredrick Broden vs photography at the Clark/Oshin Gallery
Texas-based photographer Fredrik Broden's work has appeared in Time, Wired, the New York Times Magazine and GQ. The Swedish artist's conceptual work is direct and humorous, leaving no question to its intended message.
Fredrick Broden vs photography
June 5 – July 16
5450 Wilshire Boulevard
Los Angeles California 90036
Engaged Observers: Documentary Photography since the Sixties at The Getty Center.
Photojournalism in the second half of the 20th century gets the Getty treatment in this fantastic exhibition of independent photojournalists whose work has diversified from magazine spreads into powerful book-length projects that have documented the world. Both are on display here by such photojournalist luminaries as W. Eugene Smith, Lauren Greenfield and Leonard Freed with images from the American Civil War to turn of the century activism.
Engaged Observers: Documentary Photography since the Sixties
The Getty Center
June 29–November 14, 2010
West Pavilion, Terrace Level,
J. Paul Getty Museum,
1200 Getty Center Drive,
Los Angeles, CA 90049
Eye Photo at the Bob Poe Gallery
Bob Poe's i-Phone photography is exhibited at the photographer's gallery at Bergamot Station and features intimate i-Phone images of the human eye and one non-human eye for viewers to guess.
Eye Photo
June 19 – August 15
Bergamot Station
2525 Michigan Ave., Gallery G8A
Santa Monica, CA 90404
June 20, 2010 Comments Off on Art in Los Angeles
On location with Ginger Liu
The Fairoaks Project
.
June 12th – 27th, 2010
Opening Reception June 12th, 2010
drkrm/gallery
http://www.drkrm.com/fairoaks.html
2121 San Fernando Road Suite 3
Los Angeles, CA 90065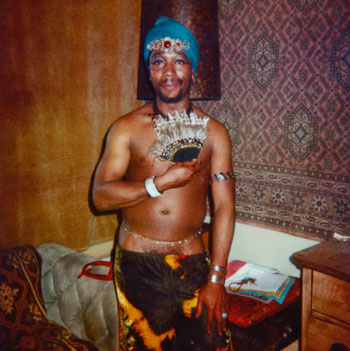 DRKRM gallery presents an extraordinary, never-before-seen glimpse into pre-AIDS gay sexual culture. The Fairoaks Project is an exhibit of Polaroid photographs taken by Frank Melleno during the spring and summer of 1978 at The Fairoaks Hotel, a San Francisco bathhouse housed in a refurbished Victorian building near a black ghetto.  The Fairoaks was known for its laid-back and racially integrated ambiance. Bold and unapologetic, Melleno's images capture an aspect of gay life rarely seen in snapshot photography: sexually candid encounters that are playful, spontaneous and often affectionate. The dark storm of drug abuse and pandemic disease that would soon overtake the community is not visible in these celebratory pictures.
Melleno's collection of Polaroids was put in a box shortly after they were shot and have not been seen until now. Many of the images contain nudity and frank erotic scenes, but they also capture men dressed in festive attire and engaged in other aspects of the counter-culture lifestyle the Fairoaks promoted. Many artists lived at the hotel, and ongoing therapy-support groups and monthly theme parties enhanced the Fairoaks' reputation as a neighborhood center for gay men as much as a bathhouse.
A limited-edition book of photographs from the exhibit, with an introduction by Mark Thompson, is available for purchase in the gallery and on BLURB.
Frank Melleno: The Fairoaks Project
Polaroids from a San Francisco bathhouse 1978
June 19, 2010 Comments Off on Los Angeles
Beyond The Horizon:
Selected New Works By Terri Lloyd
The Majestic Roof 
88 North Fair Oaks, Suite 102 
Pasadena, CA 91103 
Info:      (626) 844-8886   (626) 844-8886   (626) 844-8886   (626) 844-8886
Other exhibitions:
LAKE OF FIRE
Doro Hofmann at Ghettogloss Gallery 
http://www.ghettogloss.com/exhibitions/
"Excessive, sensual and kaleidoscopic, Hofmann's image-saturated oil paintings comprise a meticulous study of the human impulse, desire. Magma-colored jewels and scintillating gold chains erupting from distant galaxies and lavish depictions of imaginary religious icons are some of the multifarious images Hofmann uses to visually construct how human desire motivates action, fantasy, destruction and uncertainty. "
Ruby Ray: First Wave Punk Photography
William S. Burroughts in a San Francisco garden, 1980.
RUBY RAY
La Luz de Jesus Gallery
February 19-28, 2010

"Friends, collectors, and strangers know Ruby Ray's work — even when they don't. Ruby Ray's iconic portrait of Beat author / Punk Avatar William S. Burroughs' vibing, serene, Interzone menace can be seen on MySpace.  Her photo of late punk rock legend Darby Crash is the cover of Darby biography Lexicon Devil. Other photos appear in magazines, on book covers, album covers, posters. Her punk rock photography pops up uncredited on fansites and music history websites. Ruby Rays's esoteric studies and close collaboration with musicians and artists helped spawn a current that became trance music."
Read more, and see what else La Luz de Jesus gallery has on tap ….. www.laluzdejesus.com.
February 20, 2010 Comments Off on On Location/Los Angeles
the American weigh … 
With Charlie Einhorn
My eccentric friend Chris Steele is an artist, designer, model maker, inventor of of odd contraptions, spin-art virtuoso, founder of Citizens for a Better Skyline (pioneering the first murals to appear in the Short North), photographer, ceramist, and accumulator of assorted weird stuff. I first met him in 1972 when we opened Benchworks, a fine crafts collective in German Village. He brought an enormous old penny scale he had rescued from the then recent demolition of old Central Station. I agreed to let him place it at the entrance of our store and he came around regularly to collect his coins. The many scales he has kept on collecting throughout these past 4 decades now make part of the largest private collections of these once ubiquitous marvelous objects, sought by museums, history buffs and collectors all over the world. Find out how you can see that amazing collection by reading below.  
The American Weigh: Christopher Steele Collection
The Ohio State University Urban Arts Space
50 W. Town St., Columbus, Ohio 43215
Phone:    614-292-8861   614-292-8861
Show opens February 2 – closes March 7, 2010
Reception: Friday February 26, 2010 5-7pm
Hours: Tuesday–Saturday: 11 am to 6 pm
Thursday: 11 am to 8pm
Free Admission 
Snapshots
______________________________________
DAVE POWERS
Dave and partner Annette started a series of house concerts on Sundays this past summer, and the word spread. The house is now packed for these informal gatherings, and local musicians frequently sit in to jam, some of which has been recorded.
Dave Powers, is a friend, a piano player who played at my wedding, a monster talent, musical genius, with a photographic memory full of encyclopedic knowledge and facts, and the largest collection of recorded music in his possession, primarily jazz, but just as exensive in classical and more. Since there is no tune or riff that he has heard that he can't remember, his improvisations are amazing and often fun in the wry way he incorporates that into his playing. So, yes, I love listening to Dave play and hope many others get to enjoy it.  — Charlie
"You're Invited!"
NEXT HO– USE CONCERT: Feb. 21, 2010
GENERAL INFORMATION AND DIRECTIONS:
The House Jazz Concert Series 5:00 PM – 9:00 PM
Music by the Dave Powers Trio plus an occasional special guest 5:30 PM – 8:00 PM
Light appetizers and non-alcoholic beverages provided.
Bring your own favorite favorite bottle of wine if you like.
Minimum suggested donation $15.00
4320 Scenic Drive, Columbus, OH 43214 
We draw a great crowd of people and of course the music is awesome!
Annette & Dave
February 19, 2010 Comments Off on On Location/Columbus